Renata Brenha / Open Studio
Photography Auriane Defert Words Sammiey Hughes
Hailing from Sao Paolo, Renata Brenha is a London-based womenswear designer and alumni of MA Fashion at the Royal College of Art.  Her artisanal approach to fashion is an exploration of repurposing and up-cycling materials to create a new identity of clothing where materials take on new meaning. Craftsmanship and collaboration with local artisans, as well as her Latin American heritage, inform her design process that culminates in her Hackney-based studio.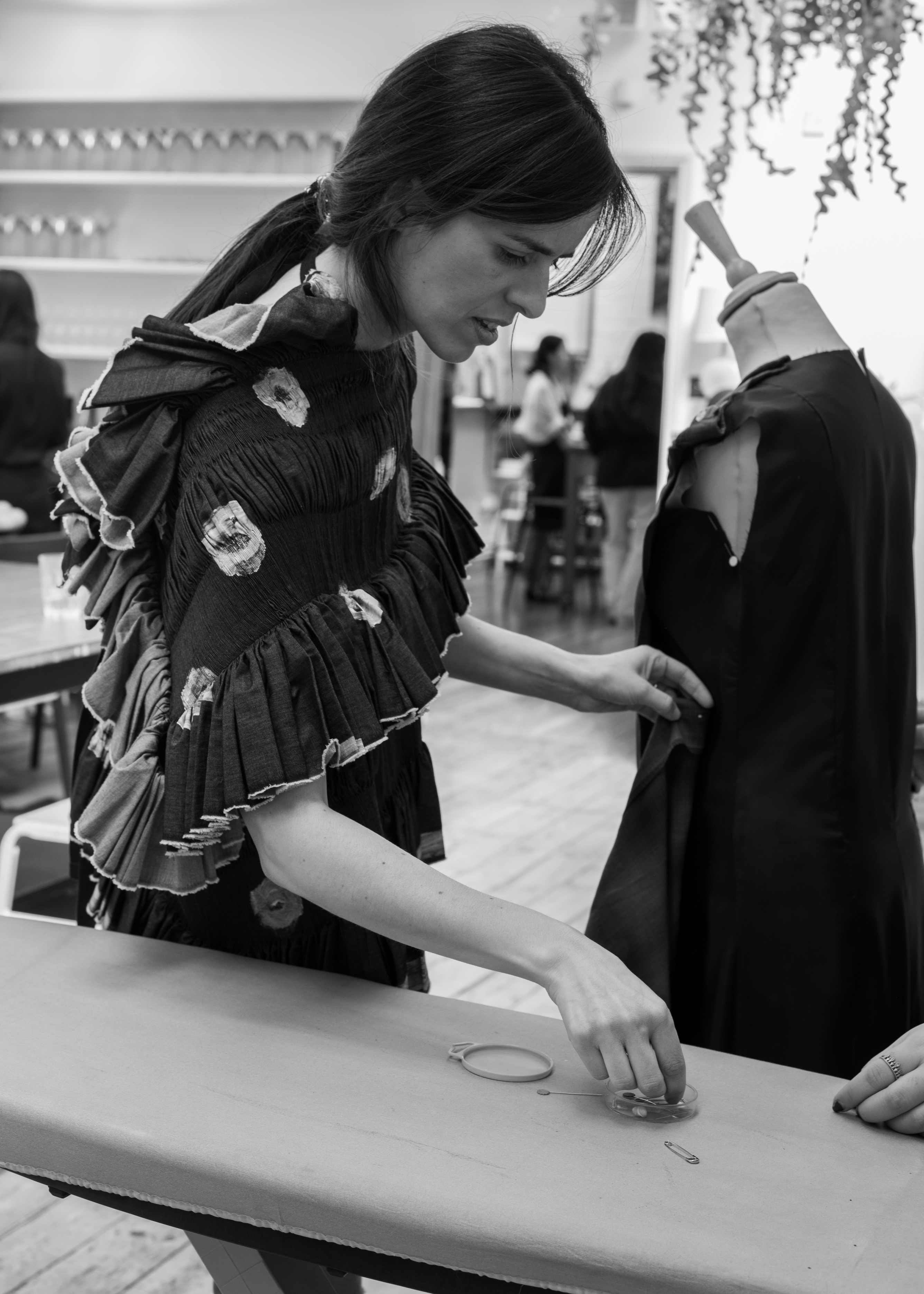 Alongside her eponymous label, Renata co-founded Cocina, a plant-based food company that is based in the same studio where she designs her collections. The multidisciplinary space explores the worlds of material exploration in which both food and fashion collide; where the design table becomes the dining spot.
We visited Renata during her open studio event at her East London studio, where we asked her about her relationship with fashion and food, cooked empanadas with her partner and co-founder of Cocina, Hernan, and learned about the Brazilian technique of Gambiarra that is essential to her design process.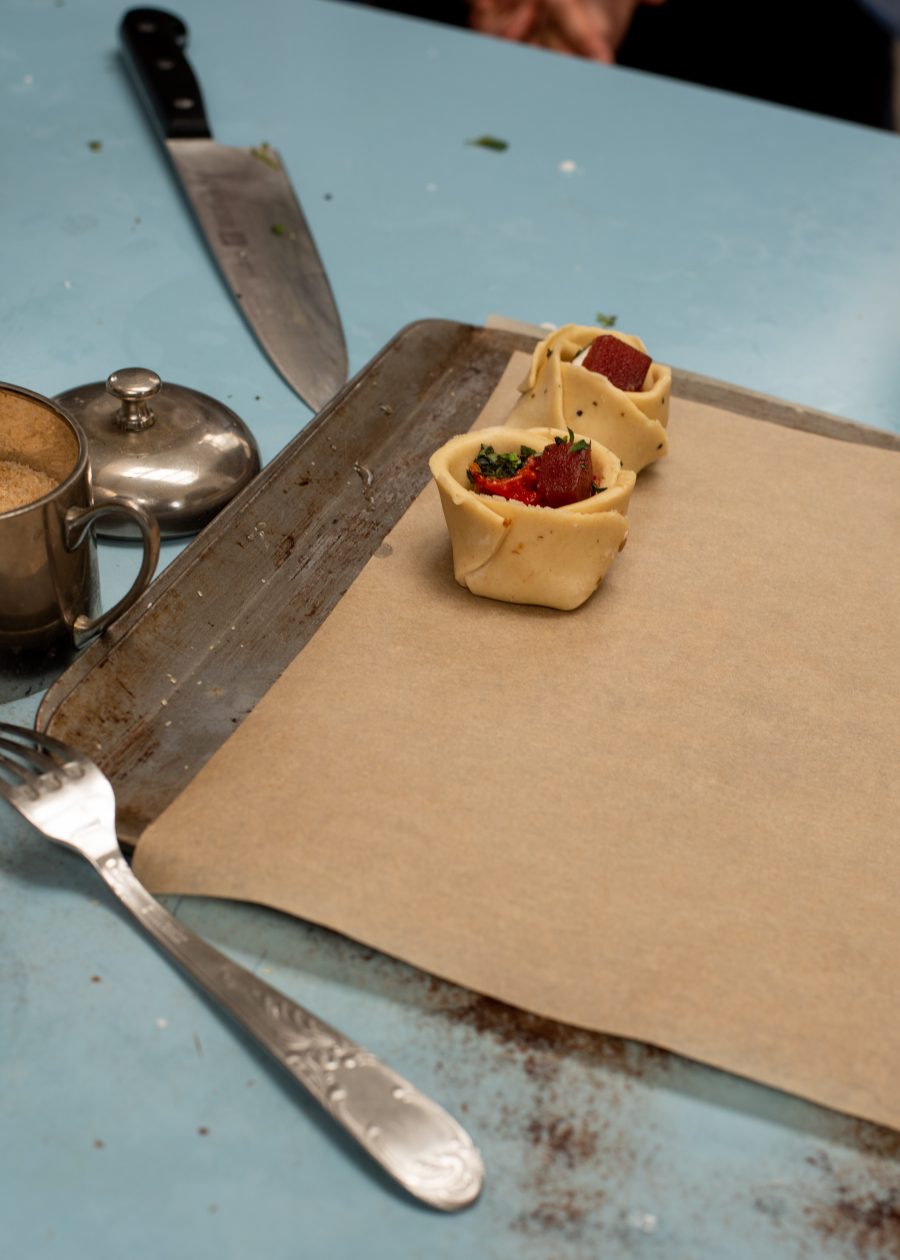 Where did the idea of Cocina begin?
We started with our own transition to a plant based diet and ended up realising that the restrictions were actually allowing us to be more curious and inventive with food. We felt the need to share this experience and today the project connects us to a much larger community of creatives and thinkers.
Cocina (Spanish for the kitchen/cuisine) works as a theatre or movie set, at the centre of the house; a vital, vibrant and symbolic place – central to so many cultures and essential to Latin American tradition.
How does the multidisciplinary space of your studio inspire you? How do you navigate the worlds of fashion and food together?
We focus on artisanal practices, in both disciplines. Our approach to cooking and creating is all about connections to personal stories, cultural narratives, visual memories and art.
My experimentation in the kitchen often informs my experimentation with textiles. The compositional aspects of both are very related; texture, form, colour, temperature. How to balance a menu and a collection to be able to tell a story are very similar processes. Ultimately, food is about culture and identity as much as fashion is.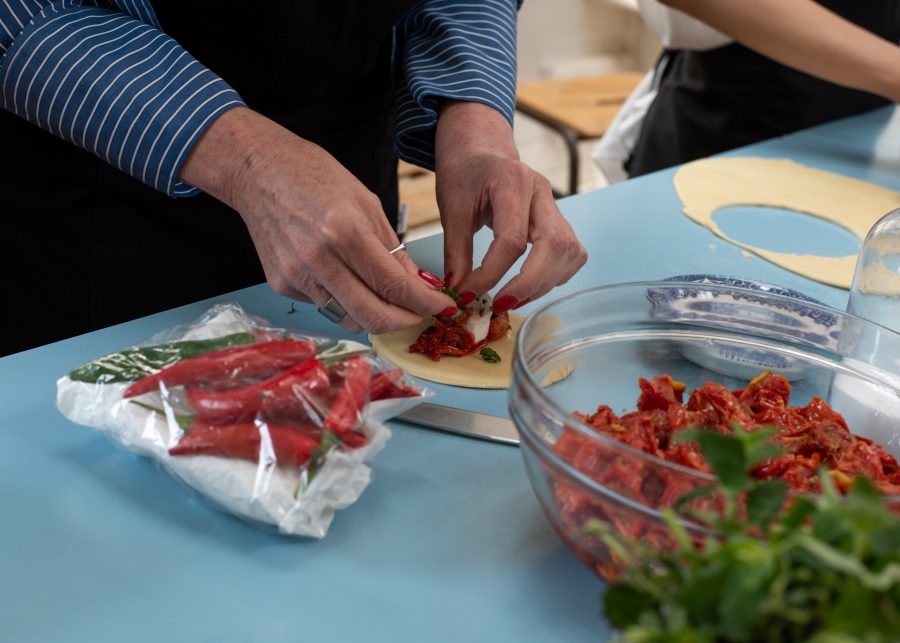 "Ultimately, food is about culture and identity as much as fashion is."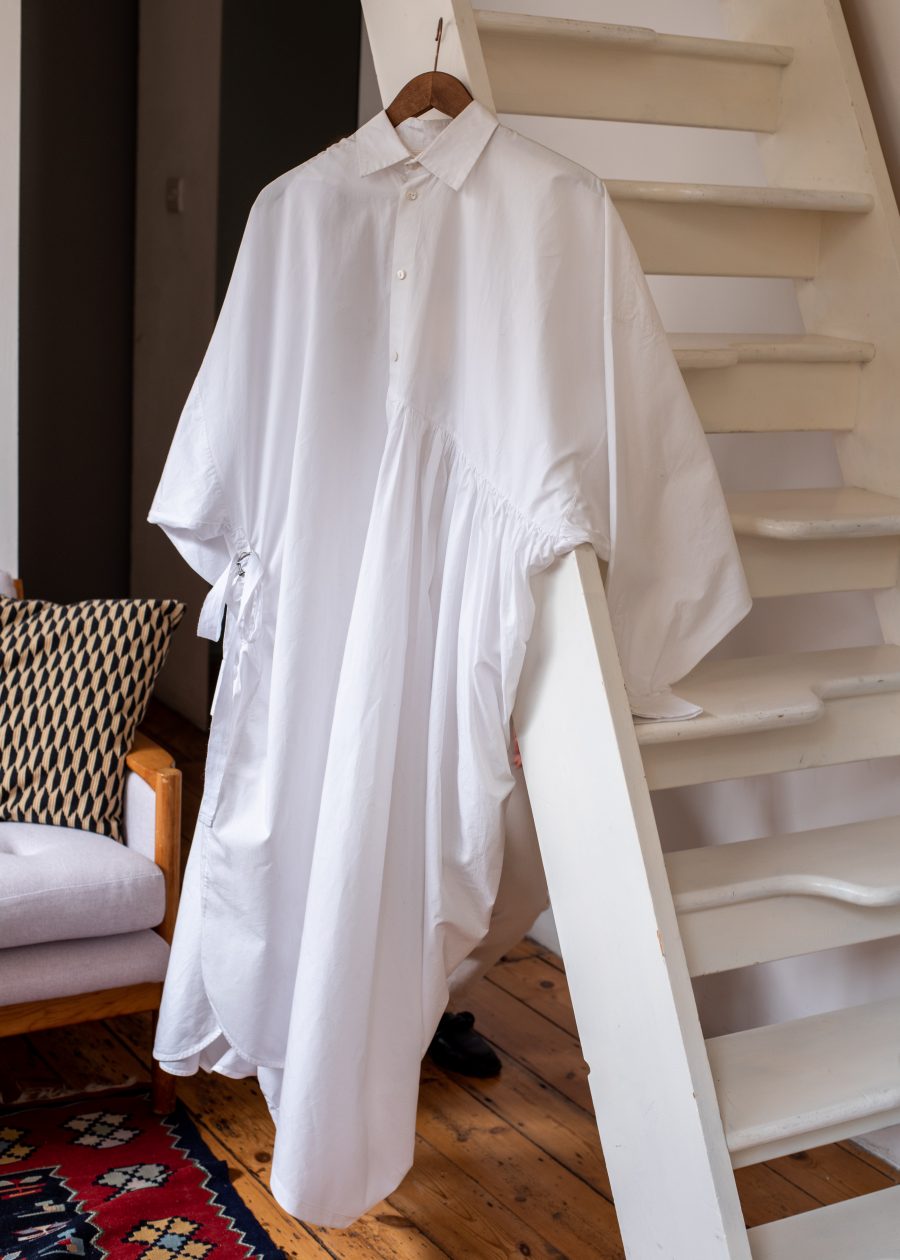 How does the space and location where you are based affect you as a creative woman in London?
Hackney is phenomenal; we have a large amount of designers, makers and independent initiatives in the same area. It is an incredible location to make things happen and our studio works as a canvas for whatever project we want realise. In London there is a sense of greater freedom to execute ideas, however, as a female, I feel there is still a long way to go in terms of equal opportunities.
What is the cultural significance of food within your relationship to fashion?
I think, as a Brazilian, food communicates our culture very clearly. Mainly because the potency of our identity is related to the huge richness and variety of languages which is the result of miscegenation. You can observe that through our cuisine, native cooking has assimilated the different cultures (African, European, Asian…) and as a result has become something very plural and unifying at the same time. For me this provides a rich universe for research and allows me to expand my experimentation to the body and clothes.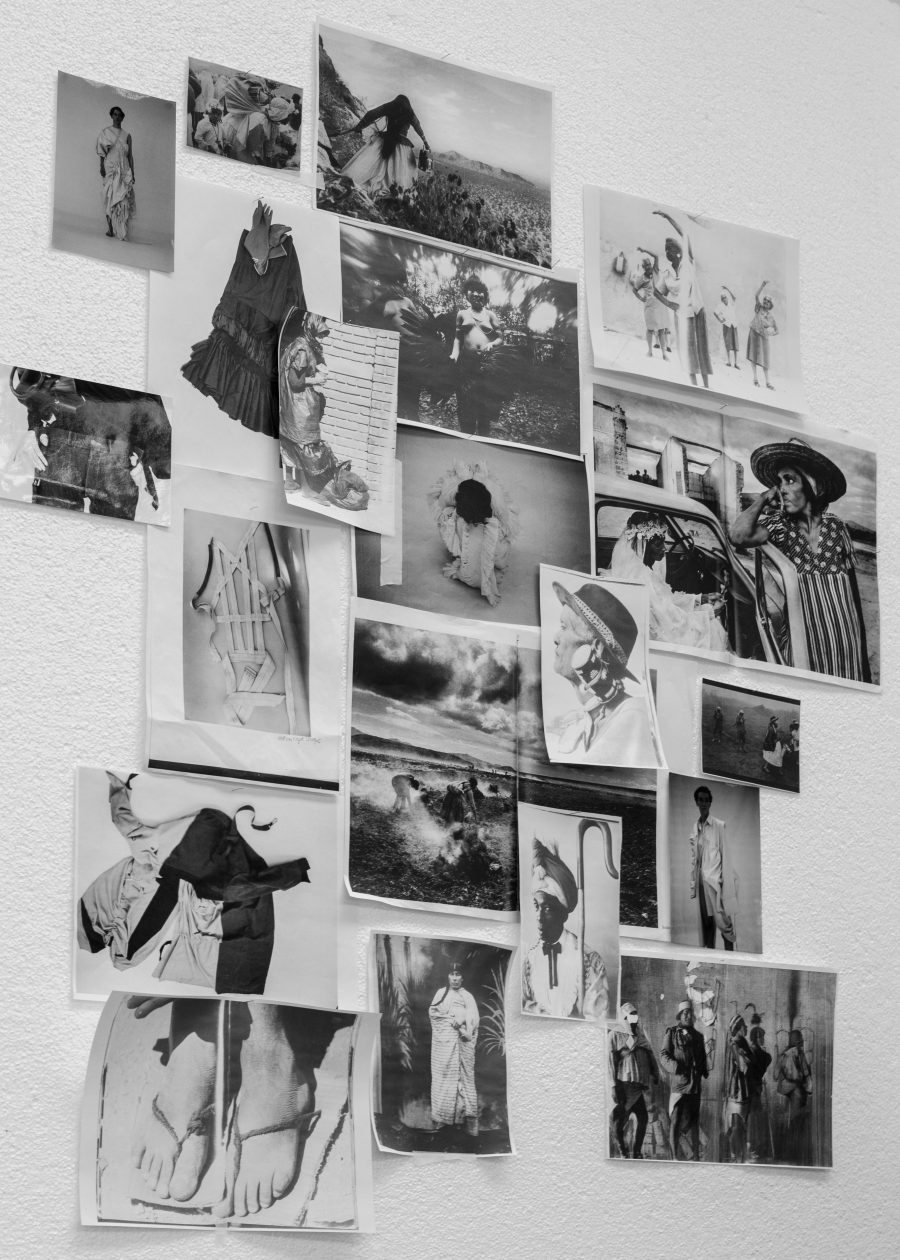 How has your Latin American background shaped your work/design?
In many ways; above all, in the relationship between spirituality and materials. In Latin America the mundane and the spiritual are everyday life, and my ideas and references often come from this context. Also I use the method of Gambiarra as the base of my work; a Brazilian attitude of improvising with existing materials in the surroundings to create new objects and meanings. The process is visible, giving the garments a particular feeling of humanity.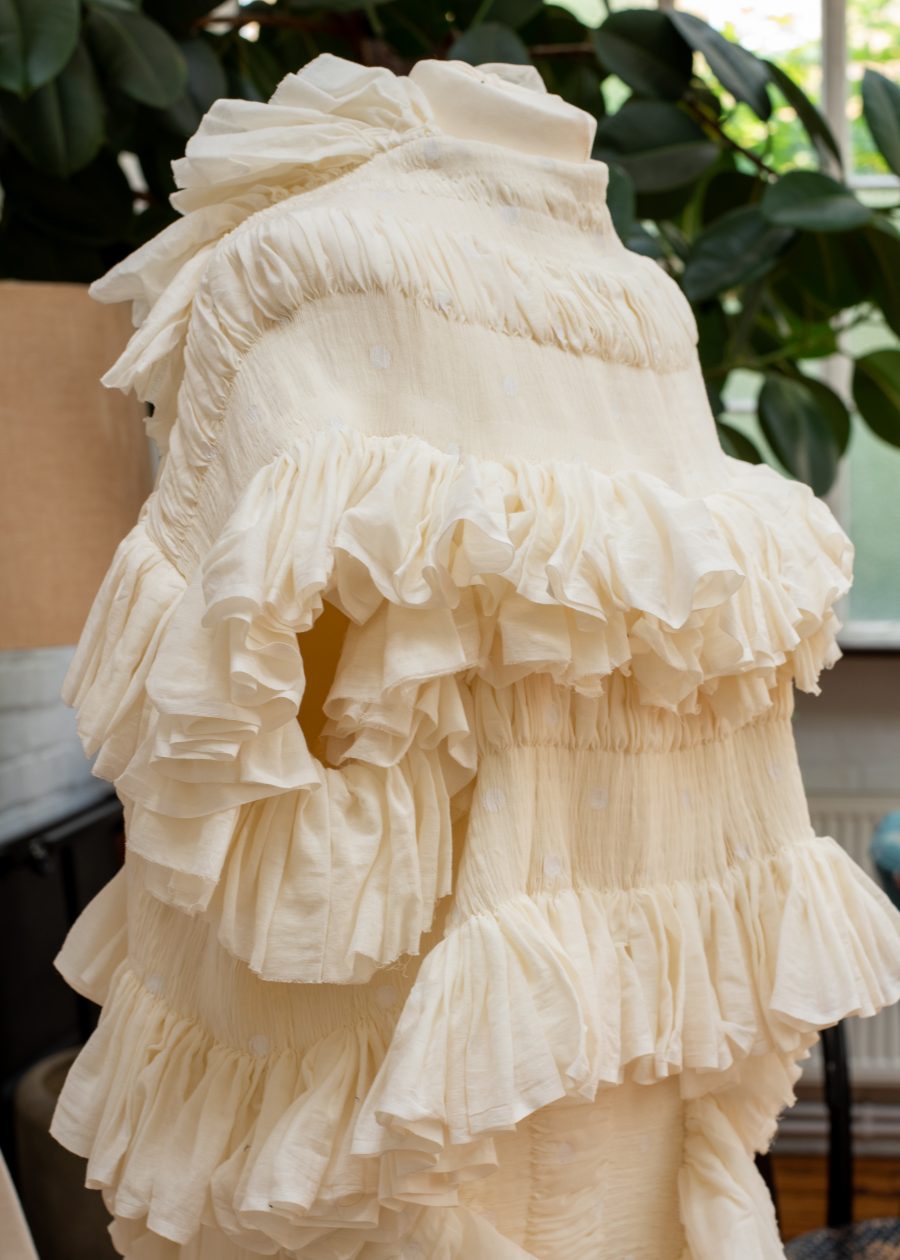 You mention how important sustainability is to you in the design process – how does this influence how you work?
My process focuses on artisanal techniques, which require a different appreciation for materials and their origin. It also connects me with many other experts in crafting, and this in turn helps us to develop a more conscious community.
I work with natural materials, mainly plant based, and avoid using first hand leather. A lot of my design references are from the kitchen – I always try to use things from my own world, so it just naturally happens. We have a lot of chilli in the kitchen, and we buy a lot of fruit, so we work with what we've got. Up-cycling is inevitable in my process as we are surrounded by waste.
As we share the studio with Cocina, all meals prepared and served are vegan. Together we try to build a high vibration environment for the people participating in the creative process.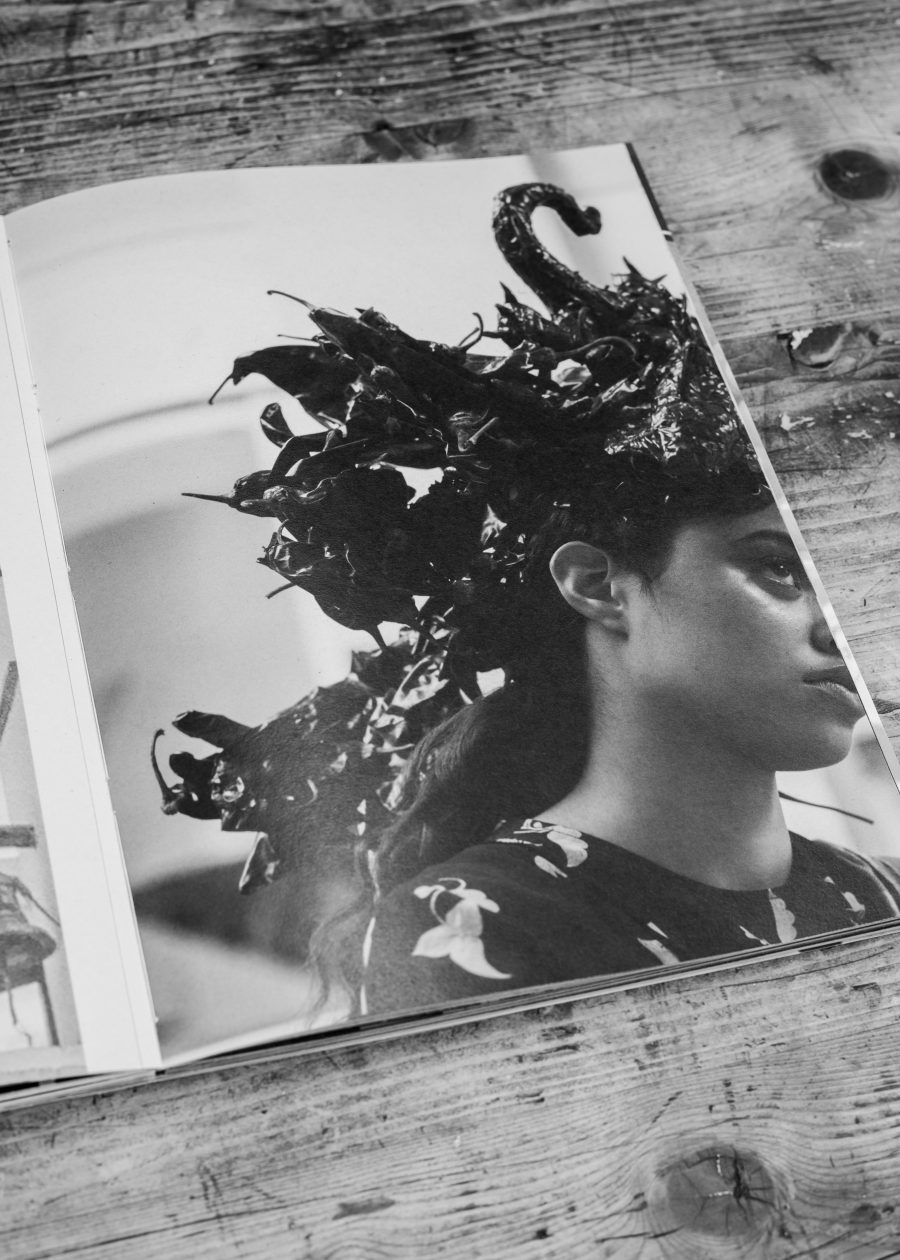 With more people becoming conscious of their consumption habits and the effect they have on the planet –with food and fashion as key contributors to this– how do you think we can tackle the issue of waste?
It is important that we embrace radical change.  I believe a meaningful difference will happen once we take control of production methods.  Once you start working with your own hands to produce and create you quickly get back to an instinct of being resourceful and avoiding waste.
There can be a lot of savings and efficiencies when you work together, especially when a professional kitchen is involved. As human beings we eat and we dress ourselves, I like how simple it can become when you focus on essentials.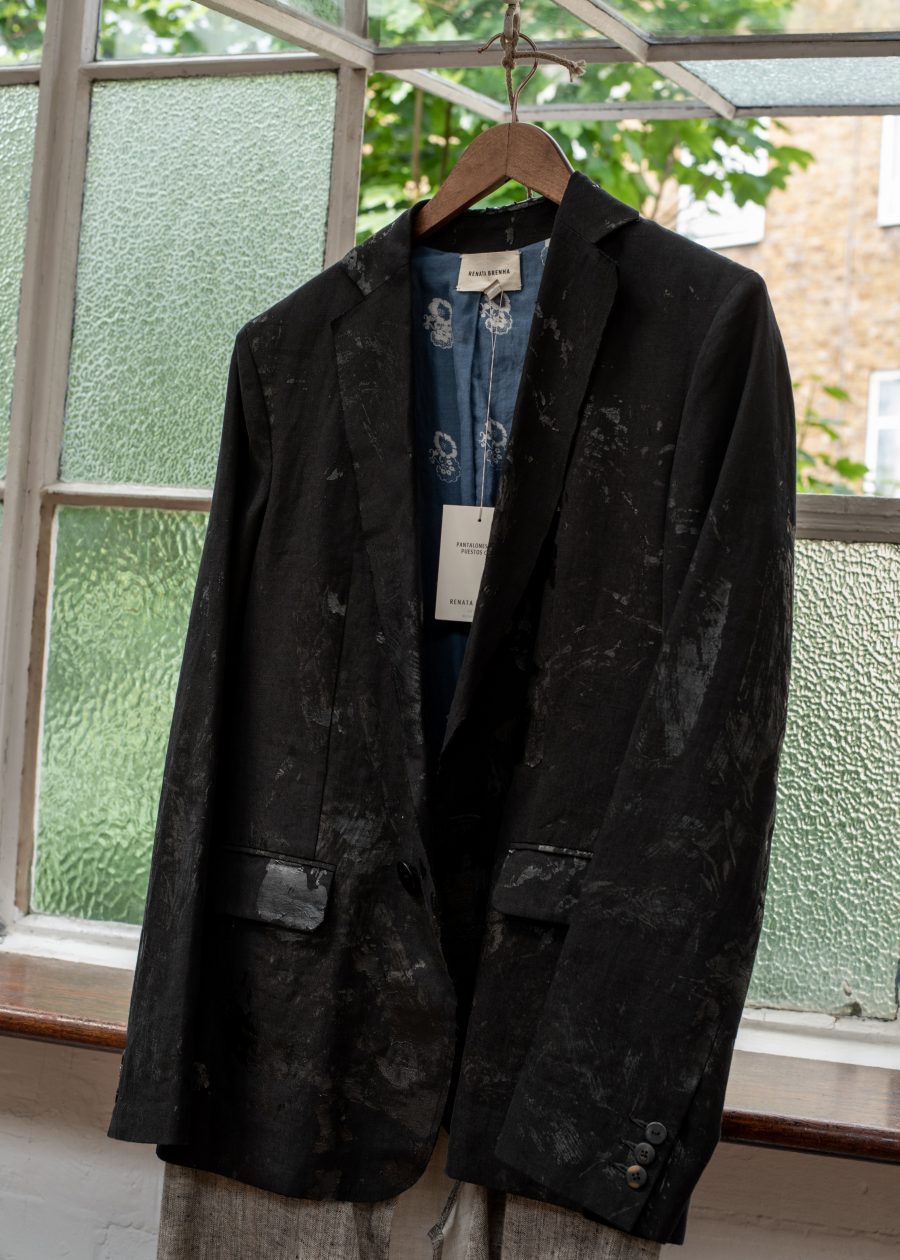 Blazer created from upcycled trousers
Photography Auriane Defert Words Sammiey Hughes